Functional Art
Examples of My Private and Public Commissioned Artwork
A functional artwork is a work that serves us in some fashion. It is an art piece designed or developed primarily from the point of view of use – but then given the "chi" or spirit, so that it takes on a life of its own while serving us. So many of the objects that we see in museums today were functional objects. The beauty of their creation has out lived their function and now we see them for their great aesthetic pleasure.
Over the years I have worked closely with clients and architects to help them realize their projects. Usually it involves carving an ornate fireplace, or pedestal or column in marble or limestone. Each project is treated with the same insight, understanding and the necessary attention to create that piece which is pleasing to the eye and serves us faithfully.
"Meditation Window"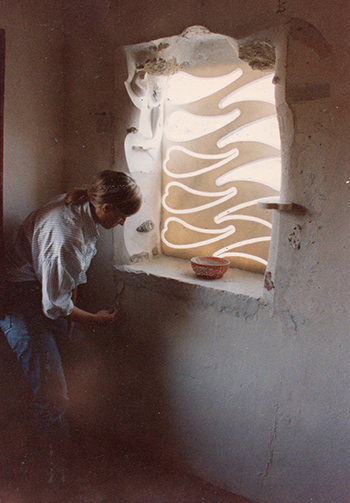 Marble, glass and cast plaster forms frame this window located in an old farm house in Tuscany, Italy. 30 x 50 inches. 1984
"Texas Wild" Gates


Steel and cast bronze entrance gates to the new addition at the Ft. Worth Zoo. The gates are made of tubular steel with laser cut imagery of a Texas prairie. Eight bronze plaques measuring 16 x 16 x 2 inches each, adorn the gate and remind us of the endangered Texas animals. The gates are 20 ft. across and close to seven ft. tall. A high arch above the gates contains flying geese in laser cut steel. 2001
"Jaguar Fountain"


Four life size jaguars crouch at edge of pool. Carved in limestone they circulate the pool's water as they emerge from the vegetation. 14 x 14 x 36 inches. 2000
Limestone Fireplace


The center piece design with crossed oak branches and acorns adorning this carved limestone fireplace was discovered while walking the lovely grounds of the client's elegant home. I stopped under the large oak and picked up several big acorns and small branches with leaves. We all agreed at that moment, it would be a great motif for the fireplace!