Art In Public Places
A Few Examples Of My Commissioned Artwork
Since returning to Texas I have had several wonderful commissions for creating site specific artwork in conjunction with the "Art in Public Places" program here in the Metroplex.
The first commission was in downtown Dallas, on the corner of Harwood & San Jacinto in the Arts District. A sculpture in Texas granite, titled "Bear Mt. Red – A Texas Landscape," from a quarry in Fredericksburg (in the Hill Country) of the same name. The sculpture is carved out of a block of granite measuring 4 x 4 x 8 ft tall and sits on a granite base that is 2 ft high. Mr. Trammell Crow commissioned the sculpture.
Another fun project was the commissioning of large steel gates with 8 bronze plaques for Texas Wild, a new addition to the Ft. Worth Zoo. For this project I fabricated a set of steel gates measuring 20 ft. across x 6 ft. tall. The laser cut steel imagery depicts a Texas landscape, the eight bronze plaques (16 x 16 x 1.5in) represent some of the endangered animals. Stone capitals anchor the gates while a flock of geese take flight overhead in laser cut steel plate. Tom Hale for Linbeck Construction commissioned the gates, in 2001.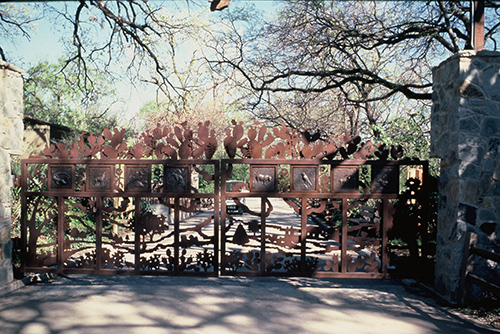 In 2003, using the lessons learned from the gates, I created a large work in the form of a triptych. The three large steel frames hinge together and attach to a cast concrete base. The laser cut imagery points to the many attractions the visiting public will discover when visiting "Grand Prairie" the sculpture. The piece was commissioned by the City of Grand Prairie for the Teri Jackson Tourist Information Center.
My most recent public artwork was completed in December of 2008. Through Public Art, and the Arts Council of Ft. Worth, I was asked to create a sculptural steel fence. This exterior enclosure creates a meet-and-greet area for the Chuck Silcox Animal Care & Control Center. The 6 ft. tall fence is 120 ft. long and has seven "windows" with laser cut imagery of life size proportions. The windows create for each of us recognizable symbols encoded with the substance of our collective experiences with our pets. The steel is left to develop a beautifully unified, natural patina.